OWENS CORNING SHINGLE COLORS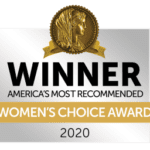 AMERICA'S MOST RECOMMENDED™ ROOFING PRODUCTS
Owens Corning® is honored to have earned the 2020 Women's Choice Award® as America's Most Recommended™ Roofing Products. This award is given by women for women. It is based on a national survey that measures brand preference by female consumers
Owens Corning TruDefinition® DURATION®
BOLD CONTRAST. DEEP DIMENSION. OUTSTANDING PERFORMANCE.
When you want the ultimate protection and impressive curb appeal, you'll want Duration® Shingles. They are specially formulated on a TruDefinition® color platform that gives them dramatic color contrast and dimension in a wide range of popular colors. Beyond the great look, Duration® Shingles also come with the advanced performance of patented SureNail® Technology—with Triple Layer Protection® in the nailing zone for superior holding power. We proved it in testing.
Owens Corning TruDefinition® DURATION®
BRIGHT. BOLD. BRILLIANT.
The world is full of color and so are these shingles. If you're looking to add more drama or a knockout new look for your home, don't overlook the power of using color on your roof to help coordinate exterior accents like paint, trim, and even landscaping. TruDefinition® Duration® Designer Shingles offer spectacular curb appeal and the advanced performance and durability of our patented SureNail® Technology. This technology provides the ultimate protection in the nailing zone of your shingle with Triple Layer Protection® that results in superior holding power. We proved it in testing.
SOLID VALUE AND LASTING DURABILITY
Supreme® three-tab shingles are a basic, smart choice when you want to balance weather resistance and value. A wide range of colors are available.
THE TIMELESS, ELEGANT CHARM OF NATURAL SLATE
Discover the difference that Berkshire® Shingles can make on your home. These laminated shingles have a large 8-3/8″ x 8-1/2″ tab and feature unique shadow lines behind the tabs that add to the look of dimension. With a thickness, proportion and color selection reminiscent of natural slate, these top-of-the-line shingles make an elegant statement.